The Recovery Review
Real Hope for Addiction
Isaiah House Newsletter, April 2019
Isaiah House holds second graduation of 2019
The Isaiah House treatment center held its second graduation ceremony of 2019 on Saturday, Jan. 26, at First Christian Church in Danville, celebrating the accomplishments of 63 men and women.
The Christ-centered drug and alcohol treatment center saw 29 clients graduate from the phase one portion of the program, and an additional 17 clients graduated from the transformation program. The transformation program consists of clients who have completed eight months of residential treatment and three months of aftercare. One client graduated from the Restoration Program.
This was the first graduation that included women who completed the program at Isaiah House's Lisa Walker Center in Harrodsburg. Ten women that completed the program were recognized for their accomplishments.
This graduation was attended by more than 400 people.
Lisa Walker Center holds grand opening
Monday, April 29, was a day of celebration for Isaiah House in Mercer County as we celebrated the grand opening of the Lisa Walker Center. Several members of the Mercer County community came out to celebrate the grand opening. Several dignitaries were on hand as well, such as Kentucky Attorney General Andy Beshear who spoke at the ceremony, Kentucky Auditor of Public Accounts Mike Harmon, Mercer County Judge Executive Milward Dedman, State Sen. Rick Girdler, Stephanie Nelson with U.S. Sen. Mitch McConnell's office and Kylie Foushee Hubbard with U.S. Rep. Brett Guthrie's Office.
Isaiah House President Mike Cox and Human Resources Supervisor Melissa Howard spoke at the ceremony and attendees were invited to tour the facility before and after the ribbon cutting ceremony. We are thankful for everyone who attended and celebrated with us!
Isaiah House goes to Atlanta
Isaiah House Treatment Center hit the road and traveled to Atlanta for the National Rx Drug Abuse and Heroin Summit. Desria Horn, Kevin Horn, VP of Programs and Joanna Early attended the four-day summit, sharing how Isaiah House is providing real hope for addiction.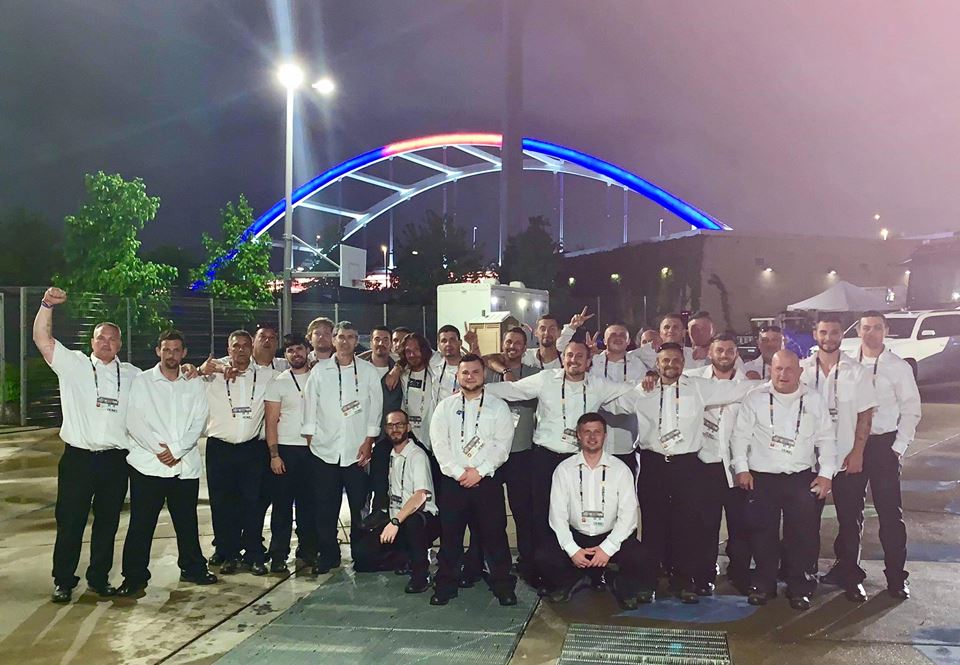 IH guys attend the NFL Draft in Nashville
The annual National Football League (NFL) Draft made its way to Nashville this year, spanning three days and bringing record crowds to the city. Several of the guys from Isaiah House were able to work security for the event, providing an amazing experience they otherwise may not have been able to have. Thank you to all the generous donors who gave in order to make sure the guys had the clothes they needed for this event.
Congratulations to Jason Mullins,
our April "5 Star Employee of the Month!"
Congratulations to Jason Mullins, our 5 Star Employee of the Month!
Jason's job is Peer Support Department Supervisor. Jason explained the peer support department. "The peer support department uses their own experience, strength and hope as recovering addicts to help show others the way to recovery. Through facilitating support groups of peers and having individual sessions with clients we help them to find their own path in recovery." Jason is an alumni of Isaiah House Treatment Center.
We are glad to have Jason as a part of the Isaiah House family. He is a rock that our staff and clients lean on and he has a great sense of humor that keeps us smiling. He was chosen by his co-workers. He received a special keepsake gift, front door parking in the designated employee of the month parking space, and will enjoy lunch with Isaiah House President Mike Cox. He is pictured above with Dr. Cannon, Clinical Psychologist.
Have you registered for our golf scramble?
Make sure you're registered to play in Isaiah House's annual Drive for Recovery Golf Scramble. It will be on Saturday, May 18, at Gibson Bay Golf Course in Richmond. Registration begins at 11 a.m. with a shotgun start at 1 p.m. We still have teams available! To sign up, contact Jordan Wilson at 859-375-9200, extension 101 or email jordan.wilson@isaiah-house.org.
You can also text to register your team! Simply text the word "teeup" to 41444 and follow the instructions on screen to easily sign up and pay via credit/debit card. We look forward to seeing you on the green!
Upcoming Events:
May 14 – Kentucky Gives Day
May 18 – 2019 Drive For Recovery Golf Scramble, Gibson Bay Golf Course, Richmond, KY 40475
June 14 – Deadline to donate for bike giveaway with Shepherds House
Isaiah House, Inc. Businesses
Hire experienced, skilled men for the work you need while supporting addiction treatment.
Click on the logo for more information.