The Recovery Review
Real Hope for Addiction
Isaiah House Newsletter, January 2019
Neal "Banjo Man" James passes away
Isaiah House lost an amazing part of our family and team on Friday Feb 1. It is with a heavy heart with great sadness for us and yet. great joy for him that we announce the passing of Neal "Banjo Man" James.
Neal was an amazing man who had an amazing ability and talent to reach those most broken. His music and his life touched everyone! He brought joy to those who had lost all joy in their lives!
Neal joined our team about 6 months ago and he will be greatly missed. 165 staff members and over 200 clients are better for the life of Banjo Man! Hid love for Jesus was unmatched and his love for people was unquenchable! He truly was one of a kind.
Neal, You Rock with Jesus now!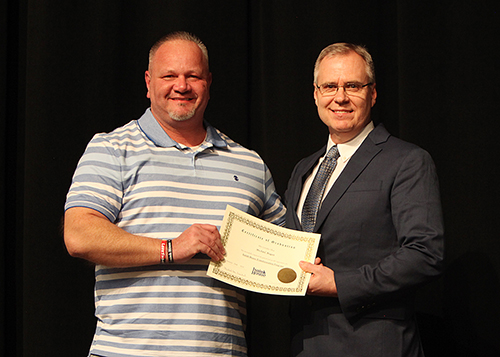 70 graduate from Isaiah House
The Isaiah House treatment center held its first graduation ceremony of 2019 on Saturday, Jan. 26, at Southeast Christian Church in Louisville.
The Christ-centered drug and alcohol treatment center saw 54 clients graduate from the phase one portion of the program, and an additional 16 clients graduated from the transitional portion. The transitional program consists of clients who have completed eight months of residential treatment and three months of aftercare.
This graduation was attended by more than 500 people, including dignitaries such as Mary Jolly, a representative of Louisville Mayor Greg Fisher's office, who serves as Healthy Smart Manager for the Louisville Metro Department of Public Health and Wellness.
In addition to the graduation ceremony, approximately 20 clients were baptized following a profession of faith in Jesus Christ as their savior.
Isaiah House welcomes No Longer Bound
Isaiah House Treatment Center welcomed our brothers and sisters from No Longer Bound, based in Cumming, Georgia, which is just outside Atlanta. Those who visited included executive director Edward Bailey, president Shawn Brown, clinical services director Brenda Wagner and data management coordinator Delia Harris. The group spent the week of Jan. 14-18 on our Willisburg and Chaplin campuses learning about the operation of our program.
Bikers for Christ enjoy Rise Up
Rise Up, the praise band of Isaiah House Treatment Center, played at Fellowship Praise Ministries in Chaplin, Ky., on Sunday, Jan. 13. BFC "Bikers For Christ" were on hand and enjoyed the music. They even posed for photos with our guys after the service.
Jordan Wilson attends opioid conversation in Lexington
Jordan Wilson attended a conversation about combating the opioid crisis in Lexington on Jan. 16, organized by Lexington Mayor Linda Gorton and Baptist Health Lexington. He is pictured here with Mayor Linda Gorton, left, and Andrea James from the mayor's office administration staff.
Congratulations to Jordan Wilson,
our January "5 Star Employee of the Month!"
Congratulations to Jordan Wilson our 5 Star Employee of the Month!
Jordan's job is public relations supervisor. He manages the public relations office. His job is making the public aware of who we are and what we do. Fundraising, developing new relationships with businesses, churches, and donors, giving his testimony of recovery and creating events are just some of what his job requires.
We are glad to have Jordan as a part of the Isaiah House family. He was chosen by his co-workers. He received a special keepsake gift, front door parking in the designated employee of the month parking space, and will enjoy lunch with Isaiah House President Mike Cox.
Isaiah House, Inc. Businesses
Hire experienced, skilled men for the work you need while supporting addiction treatment.
Click on the logo for more information.