The Recovery Review
   Real Hope for Addiction
 Isaiah House Newsletter, May 2019
 A successful day on the golf course!
The weather was perfect with plenty of sunshine for the Isaiah House Drive for Recovery Golf Scramble sponsored by GADDCO Group.
Several teams came out to Gibson Bay Golf Course in Richmond to enjoy 18 holes of golf while supporting addiction treatment at Isaiah House.
Many of the golfers left with prizes and enjoyed barbecue from Arrowhead BBQ in Hodgenville.
We want to extend a special thank you to all our golfers that came out, as well as our multiple sponsors that helped make the event a success.
Thank you for supporting Isaiah House!
Registration for welding classes begins
Welding classes are coming to Isaiah House! We are excited to partner with Campbellsville University to offer welding classes at the Mike Mullins
Vocational Center for our clients. This is another aspect of Isaiah House's Crisis to Purpose initiative, as the guys will be able to learn a trade
that they will be able to turn into a career after graduating.
Campbellsville University representatives visited Isaiah House recently to help the guys get signed up for welding classes, which will begin this fall.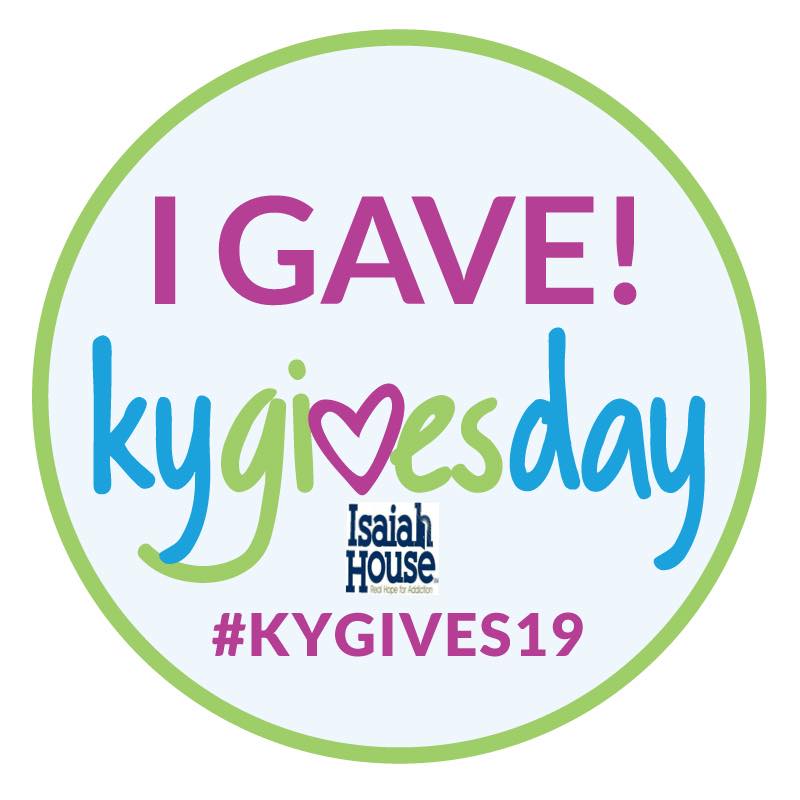 Thank you to all our KY Gives Day donors!
Kentucky Gives Day 2019 was a success, and we want to say a special thank you to all of our donors who gave. Isaiah House had the most
unique donors on Kentucky Gives Day with almost 100 donors. The funds we raised will go toward developing long-term treatment for women.
Thank you for supporting Isaiah House!
 Isaiah House hosts peer support training
Peer support is a major aspect of Isaiah House's holistic approach to treatment. Isaiah House recently hosted peer support certification training at our Chaplin campus, facilitated by Jason Mullins, our Peer Support Department Supervisor. We are an APSS Certification Training provider approved by the Kentucky Department of Behavioral Health. You can become a State Certified Peer Support Specialist through a 30 hour training program through us. Cost is $250. Email Jason.Mullins@Isaiah-House.org for more information.
Pictured above, VP of Programs Kevin Horn leads a class during the week-long training.
Congratulations to Sydney Ayers,
our May "5 Star Employee of the Month!"
Congratulations to Sydney Ayers, our 5 Star Employee of the Month!
Sydney is our Medical Billing Supervisor.
"I've been the Medical Billing Supervisor since October 2017," Sydney said. "I've always been a numbers-loving nerd, but what I enjoy the most
about this job is being able to ensure that we maximize revenue from sources other than our clients and their families. Seeing what was once a
few illegal bedrooms in the basement of my childhood home turn into countless lives being freed from the bondage of addiction and restored to
the Kingdom … how do you put that feeling into words? I am proud to be a part of the Isaiah House family!"
Sydney is an important part of our team. She is married to Andy Ayers, Vice President of Operations and they have a son, Aiden.
Sydney was chosen to be employee of the month by her peers.
She will enjoy lunch with President Mike Cox and park in the employee of the month parking space.
She is pictured with VP of Programs, Kevin Horn.
Our Danville location is now open!
Our Outpatient Services Center in Danville is now open and accepting new patients!
Break the chain of addiction and get your life back!
Live at home, keep your job and receive the help you need with individual & group counseling, target case management, and peer support.
We also provide MAT (medication-assisted treatment).
Call 859-239-9598 for an appointment.
The center is located at 975 Hustonville Road, Suite 7, Danville, KY 40422
Upcoming Events:
June 14 – Bike Giveaway with Shepherd's House
June 24 – Kentucky Chamber of Commerce Opioid Summit at Griffin Gate Marriott in Lexington, Ky.
July 15 – Grand opening for Isaiah House Outpatient Services in Danville
July 27 – Graduation at Sandsprings Baptist Church in Lawrenceburg, Ky.
Aug. 12 – Isaiah House night with the Lexington Legends
Isaiah House, Inc. Businesses
Hire experienced, skilled men for the work you need while supporting addiction treatment.
Click on the logo for more information.