The Recovery Review
Real Hope for Addiction
Isaiah House Newsletter, November 2017
Isaiah House Buys Thanksgiving Dinner for 5 Local Families
Isaiah House staff, especially those of us who have graduated from the program, are thankful for the many blessings in our lives. We know what it's like to have nothing and to be in true need of help. Lest we forget that feeling, and the gratitude that comes from our salvation, this year the Isaiah House reached out to local pastors in the hope of giving back. We asked them to provide us with 5 families in need so that we could purchase everything they needed for bountiful and joyous Thanksgiving dinners. Lance Ladd at Willisburg Christian Church, Brandon Dulaney at Anderson Christian Church, John Kessel at Carpenter's Christian Church, and Choe Sargent at Junction City First Baptist Church quickly responded with members of their community who could use assistance and the Isaiah House kitchen staff jumped at the opportunity. Purchasing whole turkeys, potatoes, stuffing, green beans, corn and brownies, they boxed up the food and prepared it to be delivered to the families on the 21st of November.
Each delivery was more touching than the last. David Cobb and Jordan Wilson met with a man who had been abandoned to raise his daughter by himself, a woman who moved to the area for a job only to find that it was not available, and a grandmother raising her children's children. At every destination it seemed that a simple meal was not enough—one household had their water service cut-off that morning, others needed jobs and another sought treatment for her brother who was incarcerated on drug charges. David and Jordan helped however they could, passing names and info along to those at the Isaiah House who might be able to assist, and offering prayer for everyone they met.
We relate these stories not as warnings of woe, reminding everyone that they should be thankful not to be in such positions, but instead to celebrate that God can use us to help others. We have been these people, in these positions and someone reached out to us. We are thankful to return the favor.
The Joy of Thanks-living
The Joy of Thanks-living
We have arrived at one of the best times of the year – the Thanksgiving/Christmas season. It's a time for enjoying great food, fellowship and football/basketball (if you enjoy that sort of thing!)
As we celebrate Thanksgiving, we hopefully focus on our blessings and being grateful for God's goodness. I Thess. 5:18 states, "In everything give thanks; for this is God's will for you in Christ Jesus." While it is good to give thanks it is even better to turn thanksgiving into thanks-living. Regardless of the day or the situation, God wants us to be thankful. Why is that?
1. Thanks-living lets God know you have confidence in Him, no matter how deep the problems or dire the circumstances. Thanks is faith turned inside out.
2. Thanks-living changes your countenance and disposition. Instead of being down and discouraged, spreading gloom and despair everywhere you go, you begin to radiate the joy of the Lord. The best witnesses for Christ are those who are facing life's trials with a song of thanksgiving on their lips.
3. Thanks-living opens the door for God to work. God hates it when we grumble and gripe…but He loves it when we praise and give thanks. As we begin to live a life of thankfulness to God, He begins to work even through the toughest trials and tests of faith. Paul and Silas were beaten and thrown into prison…and they sang a hymn of praise to the Lord. When they had finished singing, the Lord sent a jailhouse rock, and the prison doors were opened. You can be assured of this: God does miracles on our behalf when we choose to thank Him and praise Him, even in the deepest, darkest pit.
So there you have it folks! The challenge for all of us is to discipline ourselves to give thanks in everything. Thank the Lord for the mountains…and thank Him for the valleys. He is worthy of all our thanks and praise!
Sincerely,
Mike Cox
President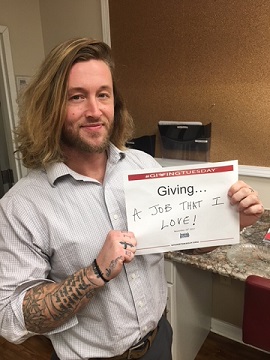 Giving Tuesday is November 28th
Every year, the day after Thanksgiving lives in infamy. Black Friday always ushers in new tales of people trampling one another to be the first in line for the hottest toy of the holiday season. Recently, Cyber Monday has been added to the list of "must-shop" days, where the deals are too good not to buy more stuff we don't really need. In all of this, where is the true spirit of Christmas? The attitude that comes from the recognition of God making Himself into a man, lowering himself to the level of his creation so that He could connect, teach and ultimately give everything. It is no coincidence that it is better to give than to receive—that is God's way. Getting in a fight over a Tickle Me Elmo Doll? That's the world's way.
Celebrated on the Tuesday following Thanksgiving (in the U.S.) and the widely recognized shopping events Black Friday and Cyber Monday, #GivingTuesday kicks off the charitable season, when many focus on their holiday and end-of-year giving. Since its inaugural year in 2012, Giving Tuesday has become a movement that celebrates and supports giving and philanthropy with events throughout the year and a growing catalog of resources. This year, The Bill and Melinda Gates Foundation has pledged to match donations made on giving Tuesday to charitable causes, meaning that if you give $100 to a worthy cause, they will add $100 to it.
This Giving Tuesday, we encourage all of our supporters to give, not only in celebration of the holiday, but in order to receive the funds matched by Bill and Melinda Gates. All donations made through our Facebook Page on Tuesday November 28th are eligible for the match, and could turn a good day of giving into a great one. This also applies to fundraisers started by our supporters and friends, meaning that the more people who set up fundraisers on the 28th for the Isaiah House, the more money gets matched. Let's make this Giving Tuesday a memorable one and remember—it is truly better to give than to receive!
Scott's Testimony of Real Hope for Addiction
My Name is Scott. I am 37 years old and I am from Campbellsville, KY. I had a fairly good life growing up. I was raised in a good Christian home despite my parents divorcing when I was young. They set their differences aside to get along to be there for my sister and I and they did the best they could. I never drank or used drugs till I got in my mid twenty's. I was around friends that drank. They seemed to enjoy it, it looked fun and I wanted to fit in so I started drinking too. I was able to control it for a short period of time to just drinking on the weekends then it got to the point that the second I got off work, I was drinking before I got out of the parking lot.
Just a few years later I was introduced to pain pills. I was hooked the first time I took one. It made me feel so alive which was better than the effects of alcohol without the hangovers. From that point on, I used to live and lived to use. I couldn't so much as get out of bed without getting my fix the second I opened my eyes. Eventually everything in my life that I use to enjoy was miserable without drugs. I would spend 90% of my pay check every week on drugs and try to survive on the other 10%. I lost countless jobs from using over and over again. I was eventually unable to afford rent anymore and had to move back home with my mother and my step dad.
I had completely shut my family out of my life even though I was living with them. I blamed it all on them, like I hadn't done anything wrong. I was a Christian and had been for a few years. Despite all of the sin I was living in, I know that God was working on me. For a week I was unable to get high and was miserable. I didn't want to live anymore and was ready to take my own life, but God had other plans for me. My family wanted to help me. I agreed and we found a faith based rehab in Jamestown, KY. I went there for 2 months. I got clean and got closer to God again. It felt so good to be sober. I was high on life and wanted to live that way the rest of my life. My family was proud of me again and they were glad to have their son back. One month after I got out, I relapsed. I had got a job and just got my first pay check. I was proud of myself and what I had accomplished. I remember saying, "I need to go celebrate and treat myself" so I went and bought pills.
The first problem was that I was prideful and self-centered. It wasn't me that saved me, it was God. The second was all I really learned at that rehab was that I got clean and I liked it. I didn't know how nor have the tools to live a productive sober life. I was back to using every second of every day and blowing everything I made all over again, but this time my addiction was worse. My family still thought I was clean and not using or so I thought-I think they knew deep down that I was, but didn't want to believe it. I eventually ended up getting drug tested at my job. I just snuck to the time clock, clocked out and left. Basically I was still continuing to run from my problems like I always have. Which was something else I didn't know how to deal with unless I was using. When my family found out what had happened, I was kicked out of their house. I was homeless, I had no money and no car. I called my family the next day wanting help and yet again, they were ready to help me out. My mother had been researching the Isaiah House. The very next day she was able to get me in. I was detoxing and mad at God, mom and all my family for sending me to a rehab that was long term.
The day of my intake I wouldn't even hug or thank my mom before she left even with all that she had done for me. Even though I was wanting to get better it was still all about me. I wanted to work on my recovery for the perks and not for the right reasons. I stayed real busy and didn't address my issues much. I just told others and myself what they wanted to hear. Basically I was trying to fake it 'til I made it. I wasn't willing to admit I was powerless and give it all to God. So close to 19 months of being sober, I relapsed yet again. I was not working to stay sober. I didn't go to meetings, church or anything. I thought to myself, I got this! I tried to pull myself back together on my own but shortly after, I used again. Yet again, I ran from my problems instead of facing them.
When my addiction took off again this time it was far worse than it had ever been. I was using 4 times as much as before. I lost 40 lbs in 2 months and weighed 130 lbs. By this time I had started using a drug called Kratom. No place tested for it. To me I had found the perfect drug I could use it all the time and never get caught or fail a drug test. I somehow convinced myself that it was going to be different this time. So eventually I got a job and was able to start funding my addiction. I was broke 2 days after every payday again. My parents quit giving me money. It got to the point where people wouldn't loan me money. So then I started going and visiting my family and stealing from them. I was living fix to fix. I never stopped to even think of what I was doing. I spent all my money on drugs again and wasn't able to pay the rent at the motel I was staying at. I lost the room and was sitting on the front porch with everything I owned in freezing weather, no money, nowhere to go and hungry.
Yet again, God showed up. As much as my mom was done with me she told me she had been working with Isaiah House to get me back in. I was honestly happy that I could go there. I knew that I needed the help and that's where God wanted me to be. At that point I knew that all the bad I had done in my past, all the people and family that I had hurt, God was still working through them to help me. The next morning I was at the Isaiah House. I was regretting having to go back, but I was ready. The second I walked in the door I felt such a relief come over me that I haven't felt for a long time.
As of today, 11/6/17, I have been clean 9 months! I don't take any credit for it today. It all goes to God! God has brought me a long way. This time here I have looked to God and everything Isaiah House has to offer to beat this addiction. God has opened so many doors for me since I have been here. He has closed several also. This time I don't work on anything on my own because I know now I can't do it on my own. Because of God and Isaiah House every relationship that I destroyed, God has and is restoring for me.
I am Scott and thanks to Jesus, I am forgiven!!
#realhopeforaddiction
www.isaiah-house.org
Our November Five Star Employee of the Month
Congratulations to our November "Five Star Employee of the Month", Desria Horn!!
Desria Horn's job is Targeted Case Manager. Desria describes her job as this, "As a targeted case manager, I work with clients to provide more support for them in the process of going through the long-term program at Isaiah House. The client decides upon three or more short-term goals that will enable him to have a smoother transition into his sober life. These goals can range from getting his drivers license to enrolling in college and everything in between. I connect clients to the resources within the community that will help him have the successful life he desires."
When we asked Desria what she likes most about working at Isaiah House she replied, "What I like most about my job is having the ability to encourage clients to see what it takes to have a good life and then helping them acquire the tools to make it happen."
We also asked, "What do you like about working for Isaiah House?" "What I like most about working at Isaiah Housee is that I can talk to my clients about Jesus and show them the love of Christ. I can encourage them through scripture and see the transformation that takes place once a client comes to know the God who forgives, redeems, and transforms!"
Desria has been chosen by her co-workers and has received a special keepsake gift, front door parking in the designated Employee of the Month parking space and she will enjoy lunch with Isaiah House, Inc. President, Mike Cox.

DV8 Kitchen
There is a new place to eat in Lexington that we want to share with you. Their food is changing lives. DV8 Kitchen is a casual restaurant and bakery that delivers fresh, all natural food made from scratch. They serve breakfast and lunch, but what makes them unique is that they operate as a second chance employer for people who are redirecting their life in addiction recovery.
People in the early stage of substance abuse recovery often find it difficult to find employers willing to take a chance on them. DV8 is willing to take that chance. Owner/founder, Rob Perez was in their situation as a 25 year old. He is now a successful business owner of the Saul Good restaurants in Lexington. DV8 Kitchen is a step in faith and conviction for Rob. By providing employment to people in the early stages of recovery, this restaurant is giving men and women a second chance while providing education on restaurant operations. The education their employees receive focus on kitchen concepts and culture, food safety, baking, restaurant math and prep plans, nutrition, counter service, physical plant maintenance, scheduling & manager duties.
Employees attend weekly General Employment Workshops. These workshops are designed to pass along basic life skill knowledge, which will assist them in being successfully employed in any field such as interviewing skills, professionalism, progressive discipline/rules, employee performance and profit, promotions/raise, conflict resolution, personal finances, honesty and integrity, teamwork, guest services and legal resources.
Isaiah House is supporting DV8's endeavor by offering three of our own kitchen staff to work for free at DV8 while they learn new ways of cooking and preparing food. Our kitchen staff is bringing back these new skills and knowledge to our own kitchen. We encourage you to visit DV8 Kitchen to not only enjoy the food made from scratch, but to support this new restaurant's endeavors to support the community of addiction recovery.
Help Isaiah House When You Go Shopping
There are ways that you can support Isaiah House without changing your spending. One way is that you can support Isaiah House Treatment Center while you grocery shop at your local Kroger. It's easy when you enroll in Kroger Community Rewards®. If you don't have a Plus card, you can simply get one in the check out line or customer service at your local Kroger. Once you enroll in their Rewards Program, you'll earn rewards for Isaiah House every time you shop and use your Kroger Plus Card. To enroll your card go to: www.kroger.com then choose your Community Rewards Organization Name: Isaiah House, Inc. and then you do your grocery shopping.
If you shop online on Amazon, you can use AmazonSmile without any difference in your shopping experience except the AmazonSmile Foundation will donate 0.5% of the price of your eligible purchases to Isaiah House, Inc. as the charitable organization of your choice. Go to smile.amazon.com and go shopping!
Thank you for your support of Isaiah House. We appreciate your prayers, donations and financial support. We couldn't do what we do without you.
Upcoming Events
Graduation– January 6, 2018, 11:00 am, Southside Christian Church in Harrodsburg, KY
Isaiah House, Inc. Businesses
Hire experienced, skilled men for the work you need while supporting addiction treatment.
Click on the logo for more information.